Just days after hearing Lucasarts and Bioware may be announcing their game soon, videogame industry website Gamasutra is reporting that LucasArts and BioWare will unveil their latest game on October 21! Apparently invited to the media event, here's what Gamasutra had to say about the invitation:

"LucasArts' and BioWare's long-awaited, much-discussed joint development project -- widely speculated to be an MMO set in the Star Wars universe circa BioWare's own Knights of the Old Republic will be revealed to the press October 21, according to an invitation sent out to media outlets including Gamasutra.
It is likely that the official announcement will come shortly after the October 21 press reveal held at LucasArts' San Francisco offices; events of this nature are frequently subject to a media embargo.
The postcard, which proclaims "The wait is over" and promises "the official unveiling of the game that's been rumored about for years," makes no explicit reference to Star Wars. It is branded with the LucasArts and BioWare logos and depicts floating robots and hooded figures in futuristic interior locations reminiscent of the sci-fi franchise."
The image above is the actual postcard, thanks to G4 TV. It seems we truly will learn more about the Kotor MMO on October 21; we'll keep you posted!
UPDATE: (Originally Posted on October 6)
Below is the back of the invite; enjoy!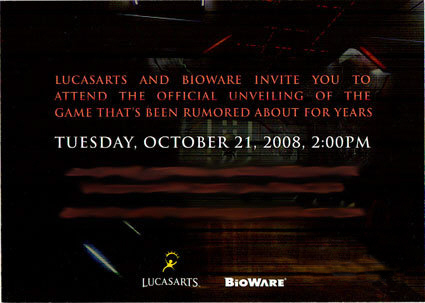 Related Articles:

Source: Gamasutra