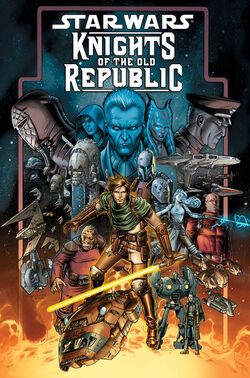 According to
Knights of the Old Republic
comic series scribe John Jackson Miller, the very popular and almost four year old comic series Kotor will be ending at issue fifty. Announced by Dark Horse at Baltimore Comic-Con, Miller stated that:
Yes, the long run of Knights of the Old Republic is set to end with #50, the last issue of "Demon."
Keep reading for the complete announcement and more from Miller.
"Greetings again from the Diamond Retailer Summit, where I'm appearing for Dark Horse promoting Mass Effect -- and where we finally made it public that, yes, the long run of Knights of the Old Republic is set to end with #50, the last issue of "Demon." We've been working toward the series' climax for some time, getting pieces into place for the big finale -- where we really have pulled out all the stops. Every question posed in the series (at least to my way of thinking) is addressed. I turned in the last script recently and was very pleased with it -- it wraps things up for this incarnation pretty close to how I'd always imagined it. Dark Horse has given us marvelous support and creative freedom from Day 1 on this series -- and we did everything to make sure things went out with a bang! For fans of the KOTOR series for its long run, I thank you -- and I can say I'm pretty sure you'll really like where things wrap up for your favorite characters. This has been only one chapter in the lives of these characters; in

Star Wars, you never know what the future holds. From the past to the future: Wrapping up KOTOR clears the decks for a major project I've been working on for some time; as was mentioned in the Summit presentation, it's just not quite ready to announce. There are several moving parts to this project, and there are waterfowl to get into their nice and orderly rows. I can't say more about it now -- but won't be long, I assure you. It really will be something readers haven't seen before! Stay tuned..."
- John Jackson Miller We here at EUCantina.net have enjoyed Miller's contributions to the Expanded Universe since 2006. Although the series will be missed, we are glad Miller has the chance to finish it well and thoroughly.  We also look forward to more Miller writing in the future.
Source