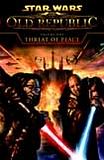 Last Friday Bioware announced that their online comic book series,
Threat of Peace,
will be getting a
print counterpart
. The comic, of course offered to introduce readers to the universe and state of the galaxy they will soon be able to play in thanks to
The Old Republic,
has a first volume due out April 28, 2010. The volume, announced today by Dark Horse, will contain issue number one through twenty-seven.
STAR WARS: THE OLD REPUBLIC VOLUME 1-THREAT OF PEACE
Rob Chestney (W), Alex Sanchez (A), and Michael Atiyeh (C) On sale Apr 28 FC, 96 pages $15.99 TPB, 7" x 10" An exclusive first look at the era of
Star Wars: The Old Republic
, written by one of the writers behind LucasArts and BioWare's wildly anticipated massive multiplayer online game,
Threat of Peace
unveils a galaxy on the brink of destruction three hundred years after the events of
Knights of the Old Republic
! For decades, the Galactic Republic and the Sith Empire have been at war-the Sith have gained control of the Outer Rim, but their efforts to penetrate the Core Worlds have so far been thwarted. Now, representatives from both sides attempt to negotiate a peace treaty-but deception by the Sith puts the Jedi in an unfortunate position. • Collects
Star Wars: The Old Republic
issues #1-#27, which appeared previously only online at swtor.com. •
Star Wars: The Old Republic Volume 1-Threat of Peace
includes critical events prior to LucasArts and BioWare's soon-to-be-released massive multiplayer online game and is written by one of the writers behind the game!
Discover a new Star Wars era!
Source: NJOE.com