Reepicheep
Master



Joined: 05 Feb 2008
Posts: 7925
Location: Sailing into the unknown
Darth Skuldren wrote:
Obviously Canada has

exactly

37 awesome things (Reep, you should add yourself to the list and make it 38
).

I'm flattered, Skuls. Thank you!
Darth Skuldren wrote:
But bags of milk? I've never heard of this. Is it like a Capri Sun juice drink thing, because I'm mentally picturing a grocery bag full of milk

Haha. Here we go.

Basically we get bags of milk and we have pitchers to put them in: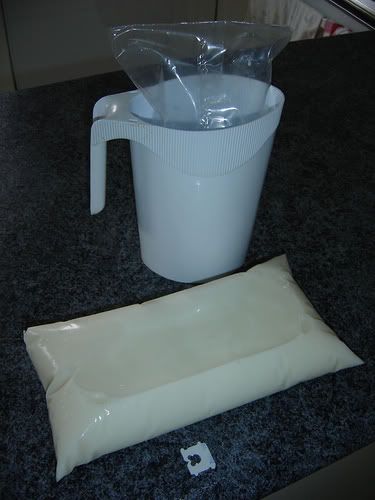 We then cut a curner of the bag off and pour it like so:



Abd, you know what, I'll make the list count forty:
38. Hockey!
39. "Oh Canada"!
40. Untouched Northern Wilderness!
Honestly, I don't know why they stoppped at 37!

_________________


Where sky and water meet,
Where the waves grow sweet,
Doubt not, Reepicheep,
To find all you seek,
There is the utter east.