Darth Skuldren
Moderator



Joined: 04 Feb 2008
Posts: 6953
Location: Missouri
Quote:
Which of the racers did you like?

Aldar Beedo, Dud Bolt, Ebe E. Endocott, Mars Guo, Neva Kee, Teemto Pagalies, Wan Sandage, Ratts Tyerell


Quote:
Which did you not like?

Gasgano, Kam Nale, Ody Mandrell, Boles Roor, Ark "Bumpy" Roose, Ben Quadinaros, Anakin


Quote:
Which is your very favorite?

Dud Bolt, the guy just looked awesome...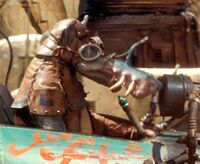 Quote:
Which did you wish had lived to race again?

Well considering Ratts Tyerell was the only one who died...


Quote:
Was the pod race enjoyable to you? If not, why not?

The pod race was a pretty good idea, throwing back homage to Ben Hur and the famous chariot race. I liked it.


Quote:
Are you glad the second lap of the race was added to the DVD or was it too much?

Second lap!? I was not aware of this. It's the only one I don't have on DVD.


Quote:
How do you feel about the announcers Fode and Beed?

A little annoying and a bit too cartoonish. Is this Star Wars or Wacky Racers?


Quote:
Was seeing the Tuskens and Jawas again a rush or not?

The Tuskens were awesome. I don't remember the Jawas, so no rush there.

Quote:

Did you enjoy seeing Jabba oversee the Boonta Eve race?

Yes, I thoroughly enjoyed seeing Jabba there. I'm a fan of Hutts.


Quote:
Is there anyone who wished they race in the movie could have been even LONGER?

Maybe...maybe not. It's been a while since I've seen it. If it was longer, it would have to server some purpose. I can't think of any real reason to do so. Everything that needed to be done was done, and there were plenty of extras. About the only thing they could add would be a Krayt Dragon or some crowd scene with Aura Sing punching someone in the face.
Quote:
Lastly which aspect of the scene did I not cover in these questions that I should have?

What species would you have like to have seen as a pod racer >>> Ewok!
_________________


"I believe toys resonate with us as humans, we can hold them, it's tactile, real! They are totems for our extended beliefs and imaginations. A fetish for ideas that hold as much interest and passion as old religious relics for some. We display them in our homes. They show who we are. They are signals for similar thinking people. A way we connect with each other...and I guess thats why I do toys. That connection." -Ashley Wood