Haha guess who I drew? Grievous and some random PO'd wookie. I'd be wary of that wookie. He looks like he's going to rip someone's arms and legs off and shove them down the person's throat while ripping the entrails out of their rear and hanging them with it, if they haven't already died from...being killed with their limbs? -Hides from the wookie-

This is what you get when I am sleep deprived and living off of coffee, slushies, and candy: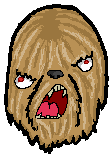 I soooo wanted to add smudge marks and dirt spots on Grievous to make him more, well you know Grievous, battle worn, but I got lazy. So let's pretend Grievous has shiny new armor!
_________________


>>>>>>>>>>>>
"

Oh man I shot Marvin in the face.

"