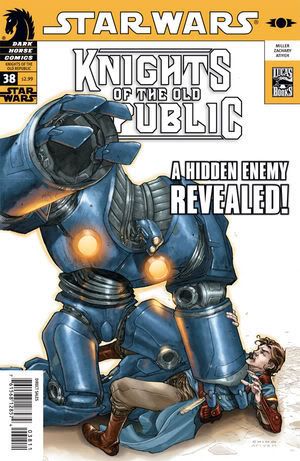 Writer: John Jackson Miller
Art: Dean Zachery
Colors: Michael Atiyeh
Cover Artist: Brian Ching
Knights of the Old Republic #38 continues our journey to the next era of the series with another one shot titled Faithful Execution. John Jackson Miller continues to do a great job writing the series and we're introduced to a darker approach to art with Dean Zachery.
Zayne and his crew come across a small ship floating in the Core that's been missing. Once aboard, we're introduced to a mystery as to why the crew is dead with no visible reason for their deaths. But not everything is dead and we're introduced to a small being named Toki Tollivar and his protector droid K-OB7 (Kayo for short–a great name for a character). Everything seems to be fixed until a member of the crew is attacked by unknown means but survives as Zayne and his allies get there in time. A dark secret is revealed and dealt with before the issue ends with a nice dialogue exchange between Zayne and Elbee.
Miller does a great job giving the readers ideas as to what's really going on with these deaths and thrills us with the resolution. Gryph was missed in this issue, but he'll be back soon enough, I'm sure. There was some great dialogue exchange with Zayne & Elbee and Slyssk & Toki that really interests me into seeing more of Elbee and Slyssk in the near future. Also, when you thought the mystery from the previous stories was over with one character, it seems there's still more to that mystery, and hopefully more comes from it as this character starts down a new path.
Zachery does a great job with his art work here. At first glance, the art looked "dirty" by the way it was drawn, but once you've read the story and see the darkness of the mystery, the style of art makes complete sense, especially since this isn't a "bright and sunny" story. One complaint I do have is Zayne looking older than he is, but it's still done so well and captures the story Miller wanted to tell. I just can't complain too much.
Another well done story to the Star Wars universe as we continue our way into the next era of the Knights of the Old Republic.
Review by Lawrence D.
All staff members can be contacted at staff@eucantina.net