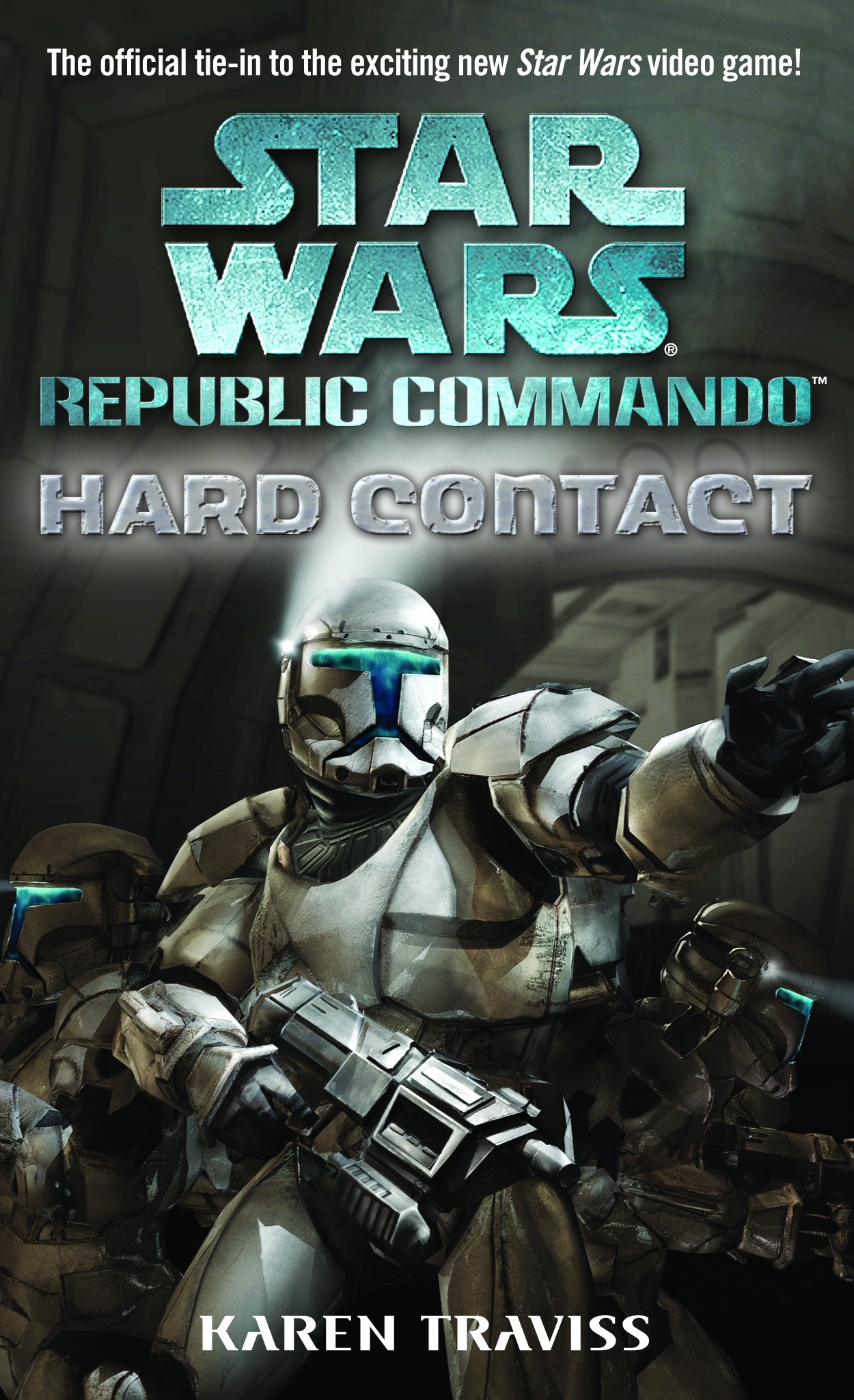 Author: Karen Traviss
Cover Artist: Greg Knight
Publisher: Del Rey
Release Date: October 26, 2004
Pages: 293
Era: Rise Of The Empire
Publisher's Summary:
As the Clone Wars rage, victory or defeat lies in the hands of elite squads that take on the toughest assignments in the galaxy—stone-cold soldiers who go where no one else would, to do what no one else could….
On a mission to sabotage a nanovirus research facility on a Separatist-held planet, four clone troopers operate under the very noses of their enemies. The commandos are outnumbered and outgunned, deep behind enemy lines with no backup—and working with strangers instead of trusted teammates. Matters don't improve when Darman, the squad's demolitions expert, gets separated from the others during planetfall. Even Darman's apparent good luck in meeting a Jedi Padawan vanishes once she admits to her woeful inexperience.
For the isolated clone commandos and stranded Jedi, a long, dangerous journey lies ahead, through hostile territory brimming with Trandoshan slavers, Separatists , and suspicious natives. A single misstep could mean discovery … and death. It's a virtual suicide mission for anyone…anyone except Republic Commandos.
The book Star Wars Republic Commando "Hard Contact" by author Karen Traviss is a spin off out of the successful XBox and PC Star Wars: Republic Commando game that followed Delta squad. Delta squad had commandos Boss, Fixer, Sev and Scorch. Sadly, I never had the ability to play this game but the books make up for it to me.
This book is the first of what is now a four part series concerning the exploits of Omega Squad with the clones Darman, Atin, Fi and Niner. As you read through the book you are also introduced to the two young Jedi who appear in the other books as well: Bardan Jusik and Etain Tur-Muka. A shape shifter species called the Gurlanin are featured in this book with the character Jinart, who helps the clones in this mission. Lastly, in a God like way by using the clones and some quotes above new chapter headings, is Kal Skirata.
The plot of the story revolves around the destruction of a virus that the Separatist are putting together on the planet Qiilura. You're probably asking yourself: "What's so special about this virus that needs to be handled by a bunch of 'green' clone commandos?" I mean come on, when we first saw the clones they were on the planet Geonosis and this book picks up right after the battle is over."
Well, the virus being synthesized by one Dr. Ovolot Qail Uthan, is designed to wipe out the clones of the Grand Army of the Republic. Guarding this project for the Separatist is the Mandalorian Ghez Hokan with a band of mercenaries. He started out the book with a rag tag band of mercenaries but he quickly gave them their "pensions" and replaced them with a small droid army.
The book starts with a prologue following clone trooper Darman during the battle of Geonosis. Darman and his original commando squad of clone troopers Vin, Taler and Jay, were tasked with fast roping and rushing a door during the battle. We really have no idea why it's happening but by the end of this little prologue, Darman is the only one left standing from the squad.
Once his part of the battle is over, Darman tries the best he can to find his squad mates. While loading up from the extraction point, he waits until the last gunship is ready to leave before he loads up for the flight back to the transport and "home" to Ord Mantell. Inside the safe confines of the transport, he tries again to find his brothers. While not really paying attention, a voice from behind asks for his number. Still in a daze, Darman turns toward the voice and gets scanned to make sure he's in one piece. Being brought back to reality he asks if clone trooper RC one-one-three-five has checked in. Sadly the commander gives him an answer of "No" and if he didn't make it through this casevac then he didn't make it. Realizing that he is now the only one left from his squad he sits down next to a wall to consider that no amount of training that he and brothers had gone through could prepare him for this reality. Clones where bred with a purpose and that purpose was to get the job done and that was just what he and the others had done. But now as a reader you see Darman start to feel doubt and that was something no amount of training could prepare him for. While sitting there, Darman runs into another clone. This one just a trooper with lighter armor and lower spec weapons compared to the commandos. They exchange idle chit-chat about the job being over but you feel that the connection Darman had with his squad mates is just not there. The realization hits him just then that he was now alone, without the squad mates he grew up and trained with from early on.
You can also tell from that point that Karen is setting up a three tier class system within the clone army. The regular clone army with lighter weapons, armor and no special training, the commandos that have better weapons and specialized training and then the ARC's that are the wild cards of the bunch. The ARC troopers are introduced in the book Triple Zero.
Next in the book we follow Etain on the planet Qiilura doing what could be called an information gathering mission with her Jedi Master Fulier. We find out after a brief chase that Etain is alone and on the run because her Master was betrayed and later in the book killed by Hokan. As the book progresses, we find that Etain has a missing link, full holo maps of the Hokan's compounds, that will ultimately help our clones in the mission to stop the development of the virus.
When next we meet Darman, he's at Ord Mantell in a secure meeting room with his new squad mates Fi, Atin and Niner. This is the point when we find out that Omega squad is now made up of "sole survivors," the last man from his original squad still standing. Holding the briefing is Jedi Master Arligan Zey intelligence officer and his Padawan Bardan Jusik who's in charge of arming the squad for this mission.
Now, I believe I've set up the book pretty well at this point and to go any further would make it hard for you to read the book. And, if you read my follow-on reviews I am a firm believer in the philosophy of "read the book." At this point I'd like to try to just give you my impression and character insight of the rest of the book.
Karen Traviss laid the ground work in this book for her follow-ons. It's nice to see the progression of characters that started out being thrown into a chaotic war at the beginning of this book, to characters that start to question the system in Triple Zero and then their future in True Colors. You also see, as is the case with Etain, the characters realize that they have no choice in what has been thrust upon them but to push on to be the best they can be for the sake of the others.
I'll take Etain first in the above case. She starts out in this book as just a Padawan on a mission with her Jedi Master Fulier to the planet Qiilura. They where sent there to scout the location of the research facility making the nanovirus. When they where betrayed, by who we really don't know, Etain was able to get away and find some shelter to hold up in. This is where she meets Jinart but not as her true inky black body self (read the book for a better description) but as an old woman. When reading this part of the book you can feel the weight on her shoulders and the feeling she's just a little kid lost with a lightsaber. "Jinart" tries to get her to realize the she needs to step it up because "they" are coming.
You also feel for Etain because she has no faith in herself at the start of this book. There is kind of a natural progression going on in Etain from a scared naive little girl to one that has started to grow into her new responsibility, reluctantly. See, when she finally meets up with Darman, he begins to fill her in on what she's missed since being on her mission. She's been out of touch with the Republic for so long she didn't know about the Grand Army and that all the Jedi are now Generals (Jedi Masters) or Commanders (Padawan's) leading said army. The weight of responsibility starts to bare on her so you can say she begins her new command by asking trooper Darman his name. He starts to respond as any clone would by giving his clone number but she quickly stops him and asks him for his name. As the book progresses, you kinda see through Etains eyes the respect she has for the clones but also the sadness she has to because they really don't have anything else in life but war.
Now from Darman's point of view, Etain is his commander. You can tell that from the moment he hooks with Etain he will do whatever is asked of him. Even if there is any doubt, he will follow his commander. Darman keeps telling Etain he's seen Jedi fight, he knows what they can do and she will do what needs to be done when the time is right. That's how much faith he has in her and her abilities. There's a point in the book Etain gets so frustrated with herself that when it comes to planning a raid on Dr. Uthan's facility, she turns to Darman and says – "you plan it." She leaves the briefing in a huff and while outside Junart gives her a piece of her mind. Junart is trying to make Etain realize that for Darman's sake she needs to pull it together so he and the rest of the squad can survive this mission. And, if she can't do it, then she needs to step aside or she could get them all killed. Junart is trying to make Etain see that Darman, in fact all of the clones, did not ask for the responsibility of fighting this war. They are doing it because it's the nature of duty, that's what has been bred into them. Junart even threatens Etain that if she wasn't so important to clones as a commander; she, Junart, would have killed Etain for the sake of the mission and lead the clones themselves.
Karen Traviss laid out a very interesting point here that will probably be tested in the RC book Order 66 when released. If the clones where bred to follow the Jedi and treat them as "commanders," what is going to happen when other clones start to turn on Etain and Jusik? If you have read Karen's book "Revelation" from Legacy of the Force series, you know who still lives in that series. You just don't find out why or how they were able to get away. I guess that's something we won't know until the book comes out.
Well, I hope this brief overview gives a taste of this book and gets you to sit down and read it if you haven't already. If you have read my previous reviews you should know by now I am firm believer of reading so go read the book to see how it ends. If you feel short changed that I got a different aspect out of this or I missed that little detail, well, I'll try better next time.
If you questions or comments good or bad, your input is always welcomed. You can reach me through the eucantine.net email or leave a comment in the forum. I'll reply back as soon as I can.
Thank you for taking the time read this review. Up next, I review the Michael A. Stackpole book "I, Jedi." Two things about this as a teaser, it's so far the first and only book in the Star Wars novels told in the first person perspective and second, Coran Horn is my favorite Jedi.
Thanks Again and until next time, this is Tom Pniewski aka Kal Skirata in the forums and blog.
All staff members can be contacted at staff@eucantina.net